Why Feral Cat Colonies
When people get involved

in caretaking activities everyone feels valued. While there are no magic solutions for helping people who are the most vulnerable to low spirits - teenagers and the elderly - there are answers that are more deeply rooted in satisfying the emotional needs of both. A positive attitude begins to emerge when people are summoned to care for life; they adopt more constructive behaviors when someone more vulnerable than themselves depends upon them.
Cats Kept Him Alive
One of the goals of LA Community Cats is to help citizens become more aware of the feral cats living in their communities. It can begin as a simple walk in the park as it did for the Founder one afternoon back in 2005; she had joined a colleague in magazine publishing David Young for a stroll through the Howard Hughes Parkway. Dave had suffered a massive heart attack some years earlier and believed it was the cats that helped his recovery-knowing the cats had to be fed kept him alive. He will filibuster at the drop of a hat, as he did that afternoon in the park, on the need for more responsible people to care for homeless cats.

They were just about finished with their walk when Dave noticed a feeding station in the bushes; he left a note with Bev's phone number to ascertain the spayed/neutered status of the cats. (Dave already had five colonies of his own to feed.) About a week later, Bev received a call; the caretaker needed help with spaying and neutering with not only the colony in the Howard Hughes Parkway, but also with her two other colonies in Culver City. By the middle of June, all 18 cats among the three colonies were no longer contributing to the cat population (the females outnumbered the males three to one). But, alas, a new colony of three adults and four new kittens were found at the other end of the Parkway that also required trapping and neutering as well as a feeding station setup.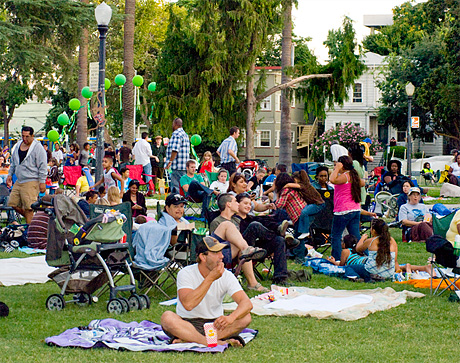 "Inheriting" Colonies
A week later, the caretaker became paralyzed after a fall and Bev took over feeding the colonies. Some days were more challenging than others to make the feeding rounds while juggling her publishing chores. It's a testament to her colleagues whose work ethic and enthusiasm kept the Editorial department humming along. At about Thanksgiving that same year, a gentleman showed up at one of the colonies—he was a survivor of Katrina. The upshot: he took over feeding all the colonies. Over time, Bev noticed subtle and positive changes in her helper from Katrina as he evolved from traumatized into trusting.
The Ability to Respond
When we are asked to be responsible for lives other than our own, we are given the chance to be surrogate mothers and fathers, to become the people who, in many cases, were absent from our lives.

A very dramatic shift in self-esteem occurs when we are needed by life. In the final analysis, the cats become our caretakers as much as we become theirs.