The Cornelius Family
For the last four years, (left, back) Charla Bell, Jasmine, Paul Cornelius, Jahrena, Solomon, (left front) Elijah and Tajrael have been taking care of four LA Community Cats' colonies-three in Culver City and one in Westchester. The Cornelius family not only puts out food and water for all the feline members of the four colonies, but they also trap and transport the feral cats to a veterinarian for spaying and neutering.

Paul and Charla complement each other personally and professionally. He is a natural born comedian who also writes his own lyrics and music, sings and plays the guitar. She works as a paralegal and also produces her husband's albums-a fusion of jazz, folk and rock. Their children are equally gifted: Jahrena is a philosopher and a ballerina; Jasmine is an illustrator and a singer; Solomon favors botany and marine biology; Tajrael is an artist with an eye for combining colorful clothing. Elijah precociously talks about building RVs. Though, each offers so much more than what they've been singled out for.

Grateful and gracious, the Cornelius family serves as an example of intelligence, creativity and sensitivity. LA Community Cats is blessed to have them as part of our extended family.
Nelson Potter-Father to the Felines
Never one to pass up a straight line, Nelson Potter entertains without even being aware of it. He could charm a snake with his golden voice, but instead, he uses his good nature to summon and care for his extended family of 21 cats in the industrial section of Long Beach. There's only one cat left to neuter in his colony, but the marmalade tabby named Garfield is "elusive, solitary, from another star system," said Nelson.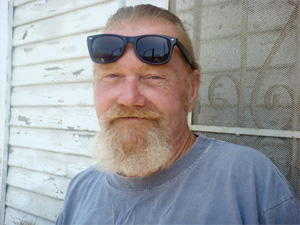 "Before LA Community Cats came along, I asked for help locally," Nelson confided, "but none was forthcoming and the cats just kept multiplying." Now he's stabilized his feline population that's made up of various kinds of tabbies—orange, gray, and brown—along with a couple tortoise shell cats and a sleek black brother. Though he has named all of his cats, Scooter, Pine Tail, Gray Kid, Gray Girl, Patch, Face, Junior, Squirt, Shorts, and Little Girl are the least shy and hence, the most visible. If you listen to Nelson, you'll learn about the characteristics of the cats—each is as distinctive as any individual in a human family. And though the cats hide among old engine parts in the open air machine shop where they reside, they emerge when he lays out their meals. The cats can set their internal clocks by Nelson—breakfast at 6; a mid-morning snack at 11; and dinner at 4.

For his reliability and devotion, Nelson reaps the affection from his feline family and all of the staff at City Ferals.
Remembering Mike
1933 - 2009
Mike's winning smile revealed an open heart and intelligent curiosity about life, especially the felines that lived at his machine shop in Long Beach. Tall and handsome, Mike was a gentleman with a boyish glee in his eyes and a healthy suspicion of most bipeds. That seemed to resonate well with Scooter who claimed Mike way ahead of all the other cats. Routinely Scooter parked himself on Mike's lap to wait for a massage behind his ears. Mike never refused Scooter, for he knew this cat lived for his and Nelson's attention. Scooter loved to listen to Mike shoot the breeze with Nelson, just the sound of their voices made Scooter feel secure and like an honorary member of a private club of three.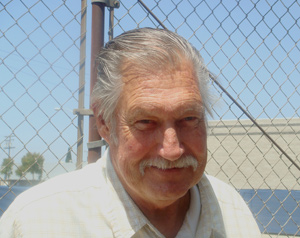 All the cats will miss Mike but especially Scooter who's so full of emotion for his friend who has left this world. Silently, Scooter confided to Nelson his thoughts about Mike:

Even when I was having a rough time last year before I was taken to the vet, Mike always had a good word for me. And when I lay in the cage at the vet, I couldn't wait to get back to Mike and you, Nelson. I lived to return home to my two most favorite buddies in the whole wide world. I love you Mike, will always love you. Anytime you want to stop in and shoot the breeze, Nelson and I will be waiting for you.