Beverly Berwald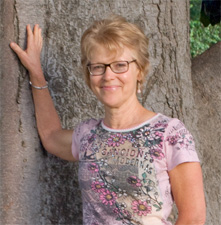 Bev was summoned to care for cats when she was barely out of diapers. She spoke their language and so they followed her back to the Berwald station wagon, willing captives to her attempts to dress them in doll clothes and teach them the alphabet. Today, they've taken her heart captive and so with helpers in Culver City, Westchester and Long Beach, Bev is responsible for 40 cats among 5 colonies. When she's not tending to her cats and caretakers, she is a playwright. As she has just finished a 14-year tenure as Managing Editor of Journal of Longevity, she now has the time to shift her publishing skills to growing LA Community Cats' presence on the web. Her ultimate goal is raising awareness of the need for maintaining healthy feral cat colonies locally and globally.
Jean Salyer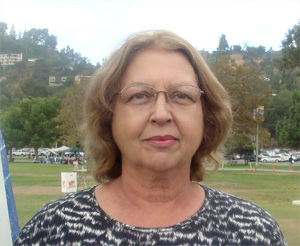 Jean is an engineer whose gifted mind is equally matched by an ample heart. (But then, science has already determined the heart is wired with the same neurons as are found in the brain. It should come as no surprise then, the most intelligent among us are also the most feeling.)

Care giver to feral cats for the last 18 years, Jean started feeding the homeless cats near the office where she worked in Paramount, California. She quickly discovered there were several colonies in the area and undertook the challenge of trapping, spaying and neutering all the felines. At the peak, there were about 80 cats among seven different colonies. Not all of the cats were feral, however. Some people observed her feeding cats and took that as an invitation to abandon their domestic cats.

Regardless, Jean succeeded in placing about 20 tame cats in new homes. Besides the six cats that she still cares for in the Paramount location, she also tends to feral colonies in South Gate and Norwalk. Nothing stops Jean in her quest to make life a little easier for the cats. Precise in her estimations, superb at trouble-shooting, she will steer LA Community Cats on a sound and solvent course.
Edna Sheldon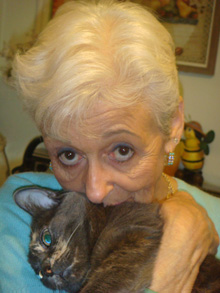 Edna witnesses what most people are oblivious to: a discarded kitten in a brown paper bag floating in the gutter; a cat being abandoned in the back of a grocery store; another rain-soaked and homeless cat crying at her backdoor. She has been rescuing felines for the last 30 years; driving nearly 250 miles to find permanent residences for some of these cats.

Never content with a one-size-fits-all answer, Edna is quick to ascertain when a cat has been misdiagnosed by a veterinarian. Outspoken on behalf of those who cannot speak for themselves, she will not give up until she is certain a cat is in the hands of the most knowledgeable and trustworthy professional.

Smart as a fox and patient as a saint, Edna is never too busy to listen. And what she hears is a world in need. Graceful and kind, she chooses people and animals over money and possessions. For that reason, she doesn't miss her career in opera back in England where she sang with Beniamino Gigli, the Pavarotti of her day, and where she once held audiences captive at Covent Garden. Today, attending opera satisfies her passion for music, while her rich contralto voice is the grace and the glue that holds a medical practice together in West Los Angeles where she is an insurance claims specialist.
Parvin Abyaneh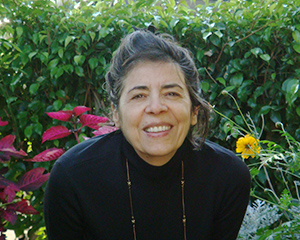 Parvin is a professor at Cal State Pomona in Ethnic and Women's Studies with an intuitive genius for knowing the needs of plants, animals and people. A model citizen, she does her own composting for the soil in her front yard. The lush, green garden she has produced with blooming mums and hibiscus surrounded by fragrant peppermint and rosemary are nature's way of thanking Parvin for taking the time and effort to care for life. Her ability to see the shortest distance between a problem and a solution has assisted LA Community Cats in constructing and mounting cat housing in shrubbery.