Mink and Maestro

were once blind and it is only through a Divinely orchestrated miracle they can both see today. It all started with the sharp eyes and the loving heart of Analee Brodie. For her full story of these very special and very lucky cats read on: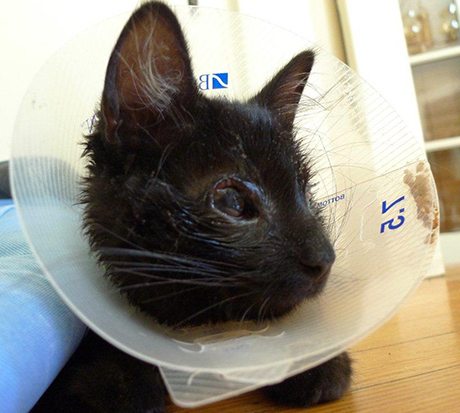 These kittens were born to a stray mother cat in downtown Los Angeles. The mother cat had herpes, and that caused her babies to be born with deformed eyelids. The kittens were missing their inner eyelid, and their eyelashes grew directly into their eyeballs, causing terrible irritation, infection, scarring. When I picked them up at 8 weeks old, they could barely see. They bumped into everything, didn't jump, and played very cautiously. Their eyes were always squinty, and looked cloudy and milky. But even with all their pain and fear, these kittens were exceptionally sweet. They started purring when they heard my voice, and loved to be held and kissed. I had to try to save them.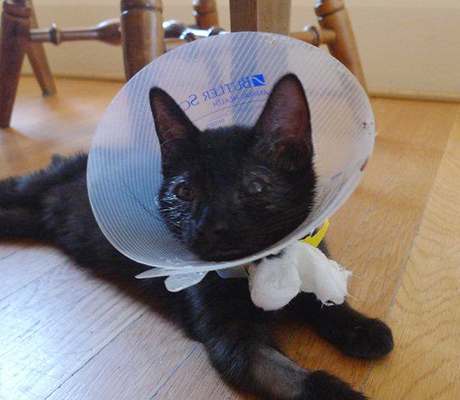 After talking to experienced cat rescuers and raising enough money for the kittens to be seen by FIVE different vets, it became clear that the kittens needed delicate eye surgery. It would be expensive -- approximately $3,000. The community of animal lovers came together and made it happen. One woman organized a yard sale that raised over $400. Other people donated $10, $25, $50 -- and more. It was amazing. Two rescue organizations stepped up and offered to match the donations so that the kittens could have their surgeries.
Dr. Michael Chang of VCA West La Animal Hospital did the surgeries. He is a vet ophthalmologist, a very skilled surgeon. He carefully cut apart the membranes that were stuck to the kittens' eyes, and then used a tiny cryo tool to freeze each little eyelash follicle he could see on their eyelids. The idea is to kill the hair growing out of the follicle, permanently.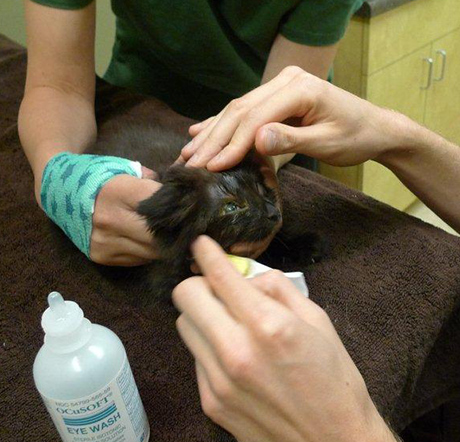 The surgery was a success! Just one week later, the kittens are happy and comfortable, playing and looking all around, jumping, chasing strings and toys, catching bugs in the air. They need some follow-up care with Dr. Chang to make sure all the eyelashes were killed, but otherwise they are ready to go to their own permanent homes. They see well and are otherwise perfectly healthy, active, friendly kittens. They are very affectionate. They love kids, and really warmed up to my little dog.
MINK (female) and MAESTRO (male) are approximately 5 months old. They have very different personalities, and are each sweet as pie. They are up to date on their vaccinations, and will be spayed/neutered and microchipped before they go to their new homes.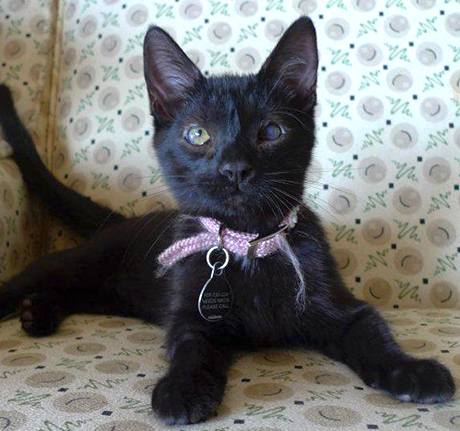 TAKE A LOOK AT THIS VIDEO, WATCH THEM PLAY: Mink & Maestro!