Heads Off Rats
Voice for the Animals,

a non-profit animal welfare group, is humanely trapping homeless cats that are being employed by the LAPD – felines without domestic accommodations. Many of them have come from mother cats that were once dumped because a human family upped and moved to another city – couldn't bother to find their companion animal a loving home. Abandoned, the vast majority of these animals die from starvation. How do people justify this abandonment? They rationalize their irresponsible behaviors by deluding themselves that Nature will take care of her own. For animals in the wild, Nature indeed has already established her imperative. But, for domestic animals, made possible by human interference via selective breeding, the responsibility rests with people.
Special Breed of Humanity
Only a handful of citizens have accepted this responsibility to care for the felines abandoned by others. Many of them are single, elderly women living on Social Security checks – they dutifully set out food everyday without fail for stray cats and arrange for spaying and or neutering by humanely setting traps. For the cats who survive homelessness, it's mostly because of this very special breed of humanity.

How come cats go hungry if there are plenty of rats? Rodents are not dumb – they flee when they get wind of felines. Cats only have to make their presence known. These sleek legends of grace and beauty give off an odor as they pad about on all fours. "Once rodents get a whiff of feline presence, like gangsters under a gang injunction, they move on," wrote Carla Hill on staff at Los Angeles Times ("LAPD Enlists Feral Cats for Rat Patrol," December 29, 2007).

The downtown flower district was swift to summon the aid of Voice of the Animals' Working Cats program several years ago. The feline masters of stealth had already demonstrated their success as far back as 2001 at the Wilshire Division of the LAPD when they handled the rats running across desks or inside equipment bags in outside lockers.
Further Wins for Cats & LAPD
"Once we got the cats, problem solved," said Commander Kirk Albanese, former police captain at the Wilshire Division who is now Chief of the South Bureau. When Albanese was transferred to the Foothill Division in 2004, ferals were also used against the rat infestation at the LAPD. Devoted and long-standing in his efforts to rid the LAPD of its ongoing battle with rodents, Albanese said, "I think it's a very humane way to deal with a very stubborn [rat] problem."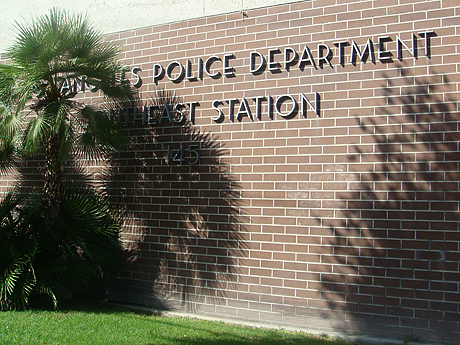 No Sacrifice Too Great for 'Cat Whisperer'
The Southeast Division of the LAPD also has eight or nine feral cats on rat patrol. The felines at Southeast know whom to rely upon for their daily meals, Officer Sandra Magdaleno, who was given the unofficial title of the "Cat Whisperer" by fellow Officer Mark Miraglia. It has been a year and a half since the LA Times interview with Officer Magdaleno. Though she wasn't complaining, in a recent conversation she revealed the care and upkeep of these feline employees of the LAPD division is still an out of pocket expense for her. In spite of that, her commitment to honoring and protecting the lives of her furry colleagues isn't confined to a 40-hour work week. On at least one of Magdaleno's days off each week, she drives all the way from her home in Temecula back to the police station in Los Angeles to make sure that her feline work force is well cared for.
Next: Widespread Employment for Cats!
Kudos to the LAPD for acknowledging feline power and using it to their advantage. Equal praise goes to Voice for the Animals and their Working Cats program. Let their smart solution serve as a blueprint for other police departments, city halls, and the business community inclusive of owners of hotels, restaurants, grocery stores, apartment buildings, corporate offices. A voucher system could be established that would be supported by municipalities and local businesses. Wherever there is human life, there go the rats which summon the need for cats—the feline work force that just may hold the fate of mankind in its paws.

Leave it to the cats to teach us a lesson in dealing with the rats: the greatest power is in not having to use it.