4 Paws & A Tail
For Olivia,

a spirited woman who immigrated from Cuba over 30 years ago, animals are some of her dearest friends. She walks the talk of love for the animals as she donates time and energy to bathing and grooming the rescues of non-profits, including Sam Simon's Foundation. If any of your four-legged children need a coiffure, call 323-644-7649 to make an appointment with Olivia and her staff at 4 Paws & A Tail: "the Jon Peters of canine & feline stylists." No cocktails are served – only an ample helping of love and affection for an experience of a lifetime. Each animal is a guest of honor because the helpers truly love grooming these "little people" in fur suits. 4 Paws & A Tail is located at 3726 Sunset Blvd., Los Angeles, California 90026 in the heart of funky, fashionable, artistic Silverlake.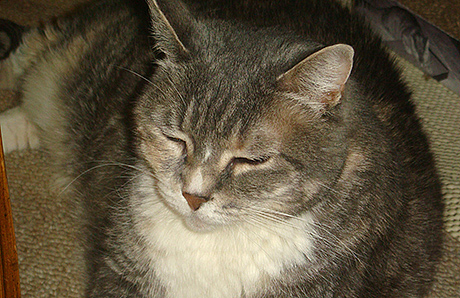 After grooming, Tiger is enjoying 'Zen time'
4 Paws & A Tail: "the Jon Peters of canine & feline stylists."
Pets Naturally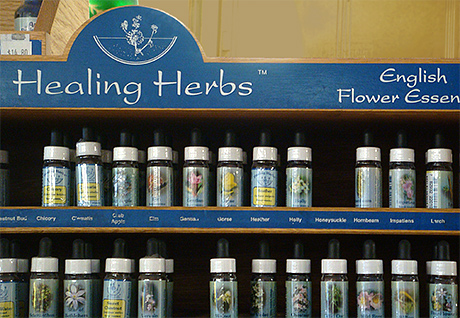 Flower Essences at Pets Naturally
Multiple thanks

to Marie at Pets Naturally for her ample samples of Felidae cat food. Smack in the heart of Sherman Oaks at 13459 Ventura Boulevard, this specialty pet food store is a rare find because of its line of alternative healthcare – vitamin and herbal supplements in addition to homeopathic remedies and essences for cats and dogs. If we lived in a perfect world, we could all feel reassured that we are doing right by our companion animals just by opening a can or bag of food. But long term healthcare requires a little more effort. Our four-legged brethren are at risk for the same diseases suffered by humans because of the ongoing assaults from air, water and food. Supplementing diets with critical nutrients can mean the difference between low-grade infection and robust health and happiness for our animals. Call Pets Naturally at 818-784-1233 and her knowledgeable staff – Chris and Jane – will provide you with precise nutritional information to help you resolve any health issue for your "little ones."

Tommy, Squirt, Face, Junior, Big Eyes, Pine Tail and the rest of their feline brethren in Long Beach, Westchester and Culver City are deeply grateful for Olivia & Marie whose hearts are as big as the ocean.