Feral cats provide an unmatched service: the Green solution to keeping the city's vermin in check.

The current chemicals and poisons that the city uses for pest control have proved not to work and are far from beneficial to the planet.

The collateral damage caused by the continued use of these substances is unprecedented, bringing unintentional health hazards to animals and humans alike.

It is well documented that chemical pest control has an adverse impact on the environment. It puts our economically vital insects, such as bees (e.g. bee colony collapse), birds, and other indigenous wildlife at risk. Also, the polluted water run-off from the use of these toxic chemicals goes straight into our fragile oceans.

These chemicals have been directly responsible for the accidental poisoning of beloved family pets. Even children are at risk when playing outside in parks and other public areas where the widespread, expensive, and un-challenged pest control poisons are being used throughout the city.

In short, the use of chemicals/poison is not only deadly for pests, but has
proven deadly for other needed and treasured creatures.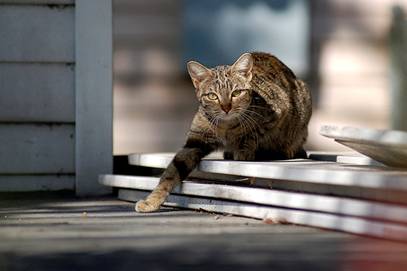 Farmers and those in pest-control know that the best ecofriendly rodent
control in existence is the feral cat.

If City Hall will take advantage of nature's gift and adopt GREEN Cats as a part of their new, Green approach to pest control, the feral cat and TNR colonies will be sanctioned as the City's eco-friendly rodent control measure.